C*R*E*A*T*I*V*E* S*P*E*A*K*E*R* Come join us at the Artist Collective Studio for Amanda Truscott's workshop on April 3rd from 2pm - 4pm! Amanda, a Fernie reside

nt, had writer's block for 10 years and is now finishing a novel that will be published. She broke down her creative barriers using tools that would work for anyone in any creative discipline. She plans to share these tools as well as a few tricks to increase inspiration and productivity that she has learned from a variety of professional painters, photographers, musicians and writers.
Powered by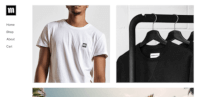 Create your own unique website with customizable templates.